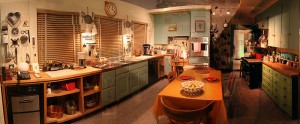 Do you spend a lot of time in the kitchen?  If so, then chances are high that your kitchen cabinets could use a little attention.  Kitchen cabinets and drawers come in contact with not-so-clean hands on a very regular basis, especially if your time spent in the kitchen includes a lot of cooking!  Assuming you don't wash your hands each and every time you need access to what's behind your cabinet doors –which you probably don't- your kitchen cabinets have probably grown a bit messy over time.  Why not make a weekend project out of making-over the cabinetry in one of the most important rooms in your home?  Not only will you enjoy the new look once you are all finished, your house will look much nicer for when it is time to sell your place to move to your new home in the future!
For a cabinetry upgrade, you may feel an urge to do-away with the retro wood grain look your doors and drawers likely don now.  Bringing some color into the kitchen is an excellent way to make your home's interior really pop!  Kitchen cabinets can be a little tricky though when it comes to painting, especially wood grain material.  It can be done though!  Follow this basic outline, and you'll enjoy a much brighter beautiful kitchen until the time comes to move!
The first task for your project is to clean and sand the surfaces you will paint.  You may find that removing the cabinet doors makes this project easier, so definitely feel free to do so.  Sanding shouldn't be too difficult a task, just a few passes on each surface should prepare your cabinets for the next step.
After cleaning and sanding, you'll want to apply a coat of primer to the surfaces you'll be painting so that the cabinets will accept the paint and give off a brilliant finish.  Most primers give off a rather strong odor, so make sure you complete this step in a well ventilated area.
After your primer has finished setting, it is time to beautify your cabinets with your choice color of paint!  It is important to be thorough during this step!  You will really love the results if you take your time, and apply two to three thin coats of paint.  Lightly sanding between coats is not a bad idea either, this provides your final layers of paint with the smoothest most ideal surface possible.  Allow to dry, and reinstall your cabinets!  You're done!
Now that your cabinetry has a new colorful look, you'll likely spend even more time cooking up meals and congregating in the kitchen!  With a newly acquired appreciation for all the hardships your cabinets go through, more frequent cleanings of your cabinet drawers and doors may also come into play!  Your professional movers here in Greenville can't wait to see your work!

This entry was posted in